Uniform Store      
The Fernie Academy maintains a full line of uniform products in its Uniform store at the school.  It is expected that uniform items will only be purchased from the TFA uniform store or from an approved supplier
Lands' End
The link below will take you directly to The Fernie Academy Lands' End site.  Only TFA approved uniform items will be available on the site.

http://www.landsend.com/pp/SchoolSearch.html?action=landing&selectedSchoolNum=900158122
DO NOT buy white polos!
The Uniform Store will purchase white polos in bulk and have them logo'd locally.   The Uniform Store WILL NOT logo white polos purchased directly from Lands' End or any other supplier.  (Don't even ask!)
Lands' End carries many non-uniform products and many of their uniform products are not approved for The Fernie Academy.  When purchasing items on the Lands' End site, please only purchase items in the SHOP FOR THIS SCHOOL button.
Transition
During 2013-14 both GAP/Old Navy uniform and  Lands' End uniform products will be acceptable uniform wear.  Both uniform products will be sold in the Uniform Store until the GAP/Old Navy product is sold out.
Dress Code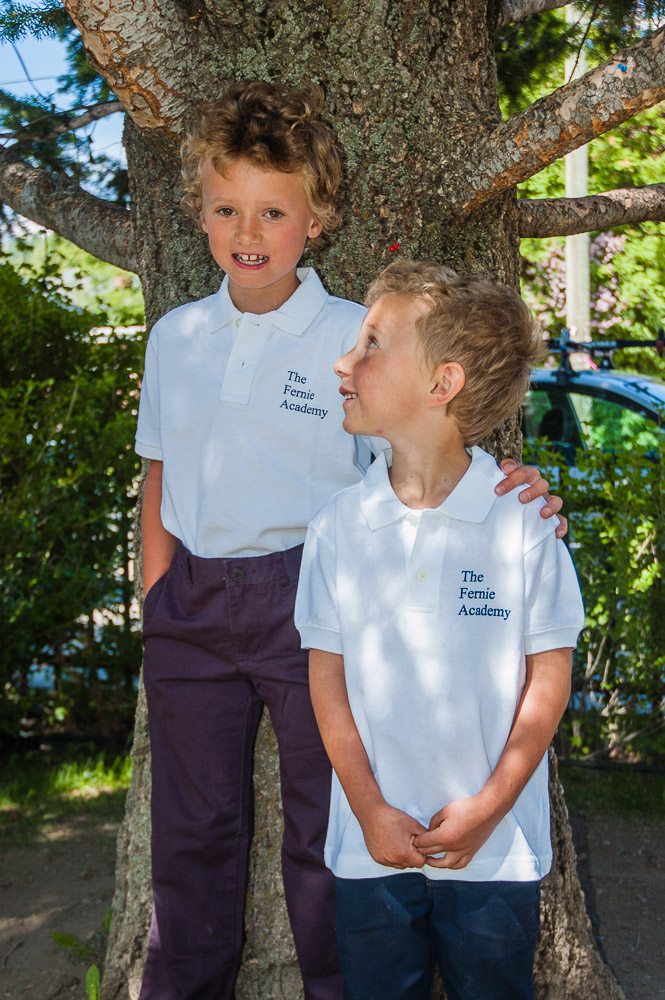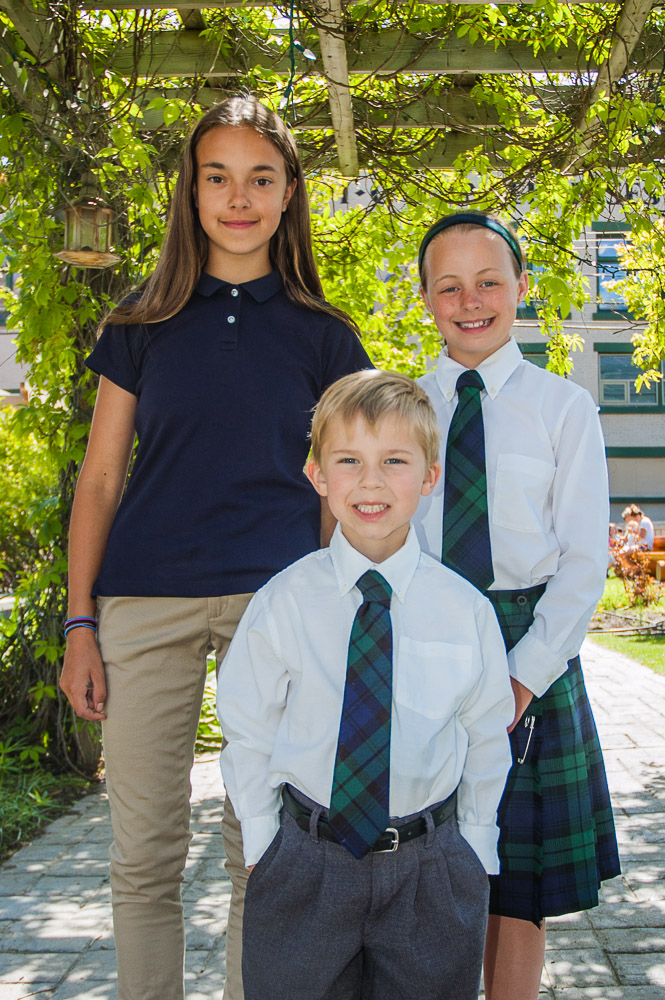 The aim of the Dress Code at The Fernie Academy is to maintain an excellent standard of dress allowing our students to be proud of their school and community appearance. The Dress Code allows for greater sa
fety of students making them easily recognizable in the community, maintaining a level of safety during school activities as well as reducing pressure on students in their choice of clothing.
ELEMENTARY DRESS CODE (K-Gr 7)
ALL uniform items are to be ACADEMY ISSUE ONLY – other items are will not be accepted.
| | | |
| --- | --- | --- |
| BOYS | MORNING UNIFORM | GIRLS |
| Navy Pants | | Navy Pants |
| White SS polo shirt with TFA logo | | White SS polo shirt with TFA logo |
| | | Navy Skort |
| | | Navy Tunic |
| Dark (plain) shoes | | Dark (plain) shoes |
| Navy or Grey socks | | Navy tights or knee socks |
| | BOYS AND GIRLS OPTIONAL | |
| | Navy Cardigan or Pullover | |
| | Navy Vest | |
| | Navy Bermuda shorts | |
| | Navy TFA Jacket/Pant | |
BOYS

AFTERNOON UNIFORM

GIRLS

 

BOYS AND GIRLS

 
 
TFA House shirt (green or house colour)
 

(K-3 only may wear morning bottoms)

Navy Gym shorts
Navy Sweats
Yoga pants
Navy Gym pants (lined)
 
Gym Shoes (indoor & outdoor)

BOYS

DRESS  UNIFORM

GIRLS

Grey dress pants
K – 3:  Blackwatch Tunic
Oxford LS Dress Shirt White
K – 3:  Peter Pan LS White Blouse
Blackwatch tie
K – 3:  Blackwatch Bandeau (cross-over) tie
4 – 6:  Blackwatch Kilt
4 – 6:  Oxford LS Dress Shirt White
4 – 6:  Blackwatch tie
Navy or Black socks
Navy tights or knee socks
Black or navy dress shoes
Black or navy dress shoes
 

BOYS AND GIRLS

Grade 7 REQUIRED (Gr 6 opt)

Navy Hosack Blazer

 
SECONDARY DRESS CODE (Gr 8 – 12)
| | | |
| --- | --- | --- |
| BOYS | MORNING UNIFORM | GIRLS |
| Khaki Pants | | Khaki Pants |
|   | | Khaki Skort |
| Navy SS polo shirt | | Navy SS polo shirt |
| Lt Blue SS polo shirt | | Lt Blue SS polo shirt |
| Navy or Grey socks | | Navy tights or knee socks |
| Dark (plain) shoes | | Dark (plain) shoes |
| | BOYS AND GIRLS OPTIONAL | |
| | Navy Cardigan or Pullover | |
| | Khaki Bermuda shorts | |
| | Dress shirt (Navy, Lt Blue, White) | |
| | White SS polo shirt | |
| | Navy TFA Jacket/Pant | |
| | | |
| --- | --- | --- |
| BOYS | AFTERNOON UNIFORM | GIRLS |
|   | BOYS AND GIRLS |   |
|   | TFA House shirt (green or house colour) |   |
| | Navy Gym shorts | |
| | Navy Sweats | |
| | Navy Gym pants (lined) | |
|   | Gym Shoes (indoor & outdoor) | |
| | | |
| --- | --- | --- |
| BOYS | DRESS  UNIFORM | GIRLS |
| Grey dress pants | | Blackwatch Kilt |
| Oxford LS Dress Shirt White | | Oxford LS Dress Shirt White |
| Navy or Black socks |   | Navy tights or knee socks |
| | BOYS AND GIRLS | |
| | Navy Hopsack Blazer | |
| | Blackwatch tie | |
| | Black or navy dress shoes | |
| | | |
For all grades black OR navy dress shoes are required – boots, skate shoes and high heels are not permitted.   Students may wear solid navy or white knee-high socks OR navy, white or skating neutral tights OR black OR neutral hose. No leggings
OTHER
NO ugg boots, colored or detailed boots, slippers, high heels, crocs or flip flops allowed
NO colored undergarments (white or beige only) and all undergarments should NOT be visible
NO headwear of any type in regular classes (plain black

OR

white headband allowed). Other headwear must be carried and worn outdoors only
NO makeup, tattoos, piercings or dreadlocks allowed
NO house ties allowed for major presentations
MINIMAL makeup and jewelry is allowed but must be removed for PE (only stud earrings allowed)
NO midriff should be visible and skirt/short length must be appropriate